Product Summary
The INA102KP is a very low noise, low distortion monolithic instrumentation amplifier. Its current-feedback circuitry achieves very wide bandwidth and excellent dynamic response. The INA102KP is ideal for low-level audio signals such as balanced low-impedance microphones. The INA102KP provides near-theoretical limit noise performance for 200W source impedances. Many industrial applications also benefit from its low noise and wide bandwidth. The INA102KP is available in 16-pin plastic DIP and SOL-16 surface-mount packages. Commercial and Industrial temperature range models are available.

Parametrics
INA102KP absolute maximum ratings: (1)Power Supply Voltage: ±25V; (2)Input Voltage Range, Continuous: ±VS; (3)Operating Temperature Range: –40℃ to +85℃; (4)Storage Temperature Range: –40℃ to +85℃; (5)Junction Temperature: P, U Package: +125℃; (6)Lead Temperature (soldering, 10s): +300℃; (7)Output Short Circuit to Common: Continuous.

Features
INA102KP features: (1) low noise: 1nV/Hz; (2)low THD+N: 0.0009% at 1kHz, G = 100; (3)high GBW: 100MHz at G = 1000; (4)wide supply range: ±9V to ±25V; (5)high CMRR: >100dB; (6)built-in gain setting resistors: G = 1, 100; (7)upgrades AD625.

Diagrams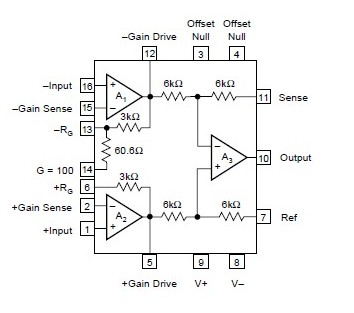 Image
Part No
Mfg
Description
Pricing
(USD)
Quantity

INA102KP

Texas Instruments

IC OPAMP INSTR 300KHZ SGL 16DIP

Data Sheet

Negotiable
Image
Part No
Mfg
Description
Pricing
(USD)
Quantity

INA101

Other



Data Sheet

Negotiable

INA101AG

Texas Instruments

Instrumentation Amplifiers Very High Accuracy Instrumentation Amp

Data Sheet



| | |
| --- | --- |
| 0-1: | $28.47 |
| 1-25: | $24.64 |
| 25-100: | $23.09 |
| 100-250: | $21.57 |


INA101AM

Texas Instruments

Instrumentation Amplifiers Very High Accuracy Instrumentation Amp

Data Sheet



| | |
| --- | --- |
| 0-1: | $23.66 |
| 1-25: | $20.12 |
| 25-100: | $18.69 |
| 100-250: | $17.15 |


INA101CM

Texas Instruments

Instrumentation Amplifiers Very High Accuracy Instrumentation Amp

Data Sheet



| | |
| --- | --- |
| 0-67: | $25.46 |
| 67-100: | $24.30 |
| 100-250: | $22.93 |


INA101HP

Texas Instruments

Instrumentation Amplifiers Very High Accuracy Instrumentation Amp

Data Sheet



| | |
| --- | --- |
| 0-1: | $11.03 |
| 1-25: | $10.54 |
| 25-100: | $7.91 |
| 100-250: | $7.76 |


INA101HPG4

Texas Instruments

Instrumentation Amplifiers Very High Accuracy Instrumentation Amp

Data Sheet



| | |
| --- | --- |
| 0-1: | $11.40 |
| 1-25: | $9.70 |
| 25-100: | $7.91 |
| 100-250: | $7.76 |