Product Summary
The ADC-HX12BGC is a 12-Bit, 8 and 20μsec Analog-to-Digital Converter. The ADC-HX12BGC uses the successive approximation conversion technique to achieve a 12-bit conversion in 20 and 8 microseconds, respectively. Five input voltage ranges are programmable by external pin connection. An internal buffer amplifier is also provided for applications in which 50 megohm input impedance is required.
Parametrics
ADC-HX12BGC absolute maximum ratings: (1)+15V Supply, Pin 28: +18Volts; (2)–15V Supply, Pin 31: –18Volts; (3)+5V Supply, Pin 16: +7Volts; (4)Digital Inputs, Pins 14, 21: ±5.5Volts; (5)Analog Inputs, Pins 24, 25: ±25Volts; (6)Buffer Input, Pin 30: ±15Volts; (7)Lead Temperature (10 seconds): 300℃.
Features
ADC-HX12BGC features: (1)12-bit resolution; (2)8 or 20 microsecond conversion times; (3)5 input voltage ranges; (4)Internal high Z input buffer; (5)Short-cycle operation; (6)MIL-STD-883 models available.
Diagrams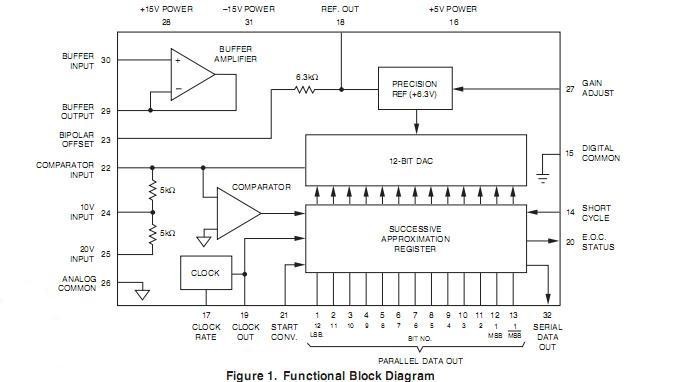 ADC-002-1

ADAM TECH

DC Power Connectors DC POWER JACK 2MM PIN TYPE 002

Data Sheet



| | |
| --- | --- |
| 0-1: | $0.14 |
| 1-50: | $0.13 |
| 50-100: | $0.12 |
| 100-250: | $0.11 |


ADC-002-2

ADAM TECH

DC Power Connectors DC POWER JACK 2.5MM PIN TYPE 002

Data Sheet



| | |
| --- | --- |
| 0-1: | $0.14 |
| 1-50: | $0.13 |
| 50-100: | $0.12 |
| 100-250: | $0.11 |


ADC-002A-1

ADAM TECH

DC Power Connectors DC POWER JACK 2.00MM CENTER PIN

Data Sheet



| | |
| --- | --- |
| 0-1: | $0.21 |
| 1-50: | $0.19 |
| 50-100: | $0.17 |
| 100-250: | $0.15 |


ADC-002A-2

ADAM TECH

DC Power Connectors DC POWER JACK 2.50MM CENTER PIN

Data Sheet



| | |
| --- | --- |
| 0-1: | $0.21 |
| 1-50: | $0.19 |
| 50-100: | $0.17 |
| 100-250: | $0.15 |


ADC-003-1

ADAM TECH

DC Power Connectors DC POWER JACK 2.00MM CENTER PIN

Data Sheet



| | |
| --- | --- |
| 0-1: | $0.23 |
| 1-50: | $0.21 |
| 50-100: | $0.19 |
| 100-250: | $0.17 |


ADC-005-1

ADAM TECH

DC Power Connectors DC POWER JACK 2.00MM CENTER PIN

Data Sheet



| | |
| --- | --- |
| 0-1: | $0.24 |
| 1-50: | $0.22 |
| 50-100: | $0.19 |
| 100-250: | $0.17 |